ACO creates in-depth resources that address topics, questions and concerns related to higher education with an eye on affordability and accreditation. Resources include comprehensive guidebooks, student interviews, user-friendly search tools, federal datasets and other materials created and vetted by experts in their fields.

Choosing a college is a big and exciting decision. Explore your interests and take the time to find a college that will put you on a path to a bright future.
This is your place to find the college that you want. It's the place to discover new colleges and scholarships, compare your top choices and make the decisions that give you peace of mind. How? With tools that help you easily compare colleges, read detailed reviews by students on campus, find available scholarships... even see your chances of getting into your favorite colleges.
Find hundreds of pages of articles about choosing a college, getting into the college you want, how to pay for it, and much more.

Live chat with hundreds of colleges and universities.  It's free.
At Chegg we're all about removing the obstacles that stand in the way of the education YOU want and deserve. Search free scholarships, browse course reviews, get 24/7 study help and rent textbooks for a fraction of the cost of your bookstore - all in one big education-redefining student hub.
We seek to empower students by providing the information needed to make informed higher education decisions. Through proprietary research, we build user-friendly guides and rankings that lead students of all ages on their personal path to a college degree. We are dedicated to helping students find the school that best meets their needs.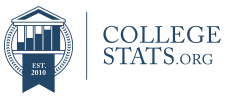 College Stats is a new kind of site about higher education.You won't find faked "reviews", or even qualitative reviews by students or professionals; instead, what you'll find is statistics: numbers, quantitative data, and facts. All of which can help you make an informed decision on where to go to college.
With a thriving community of over 1.6 million members, Unigo is the premier network for current and future college students to get to where they're going. Unigo provides cutting-edge tools, compelling content, and essential information, empowering students to make the best decisions about their college experience
Discover Business Degrees - Compare all business programs in: Accounting, Finance, HR, Marketing and more...